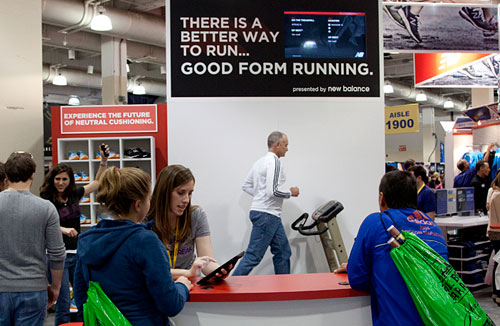 Being heavily involved in numerous running events including track meets and marathons, New Balance needed a way to elevate their engagement with visitors at their booths beyond their usual pop-up store model. We approached this challenge with the goals both extending people's hands-on experience with the product in a way that could help tell brand stories more effectively, as well as providing them with a resource that would educate visitors about their running form and how it could be improved.
To give people more information about the shoes they were trying on at the expo booth, we designed an experience using a Microsoft Surface table through which shoes RFID-tagged shoes could be placed on the screen which would in turn populate with relevant articles, videos and tech specs. Additional information about New Balance or the athletic event itself could also be accessed simply by touching the screen.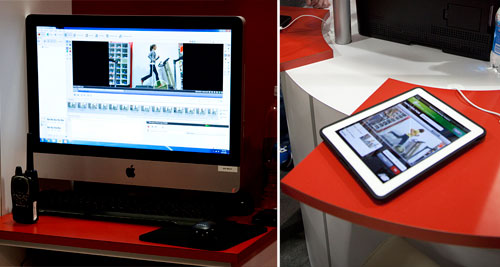 The expo setup also featured a "Good Form Running" form analysis station. Through this installation visitors were invited to get on a treadmill and do a little running. Their run was then captured on video and processed against a model demonstrating proper form. A New Balance associate would then walk through an analysis with the visitor on an iPad, and provide them with a printout of their data.
Here, our director of technology explains how the motion analysis portion of the experience works:

Client: New Balance
Agency: Almighty
Role: Creative Production Director